IRLP Link Radio Interface and
Plug and Play Info

Pin-outs for known good IRLP PnP radios

IRLP - Keeping the Radio in Amateur Radio
Those Radio Amateurs desiring a Plug-N-Play radio should consider some of the used very reliable ex commercial units such as the Motorola and GE models described here. Yes you will need to make up a simple cable for the GE and Motorola radios but hey! - you're a licensed ham radio operator so this simple project will be a breeze.
If you are challenged at this, please post your questions to the IRLP Groups.io group https://groups.io/g/irlp/
Please do not waste a perfectly good dual band mobile or HT or worse yet a multi band/mode HF rig. We received almost daily queries about adopting IC-706 and FT-847 radios. Look on eBay or your neighbourhood Hamfest for one of the following bargains that make outstanding reliable node radios.
NOTE: While surplus commercial radios are by far the best choice for IRLP nodes, ALL commercial rigs require proprietary programming software and hardware. While there are many sources in most communities for this type of programming, it is best to check first with your area ham buddies who work in the commercial field before acquiring the rig. Barring that, you can expect to pay between $30-50 to have a couple of channels programmed at a commercial shop.
MOTOROLA M SERIES RADIOS
with 16 pin option connector
You should check eBay for the following search words. GM300, MAXTRAC, M120. You must make sure the radio has a 16 pin option connector. The 5 pin radios DO NOT have COS at the plug .


GM300 shown here
Pin -Outs for ALL Motorola 16 pin radios

TX audio in=2 * a 10UF Non-polarized DC blocking cap in series may be required

PTT = 3
Gnd = 7
COS = 8 active low on carrier or valid PL
NOTE: on 16 & 32 ch models, this pin is
programmable for other functions

RX audio out = 11
NOTES:
As long as the microphone is inserted and hung up on the clip, the PL will be enabled. To operate the node without a microphone plugged in, make an RJ45 mic plug shorting the PL line (PIN 3) to ground (PIN 4). To enable the front panel speaker, jumper 15 to 16

On most of the Maxtrac radios, the feature which forces PL to be enabled when the microphone is hung up (clip button on back of microphone grounded) can be DISABLED when programming the radio. This is under the radio-wide options screen along with the TX timeout value which can be set to OFF. Neither of these are default settings. TNX Bob AC0KC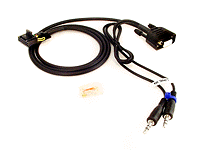 Useful Motorola Links
---
LOOKING FOR A PRE-MADE CABLE?
CLICK HERE for pre-made cables from Marshall KE6PCV
A great resource for Motorola Radios including 5 pin Radius models can be found at Batlabs www.batlabs.com . Model specifics can be here........ http://www.batlabs.com/2way.html
---
GE PHOENIX (S or SX models)
by Rob N1NTE
The GE Phoenix radios make nice IRLP simplex nodes. Normally, a Phoenix puts out around 25 W on UHF up to 40 W on VHF. If you are not planning on using a fan on the heat sink, then it is recommended that you turn the RF power out down to about 10 watts. The power out potentiometer is R120 located on the bottom of the radio under the metal shield. There is a hole in the metal shield that allows you to gain access to it.

Here are the connection details:

There are two connectors on the back of the radio - J911, the microphone plug and J910, the power/speaker plug. J911 is an 8-pin connector and J910 is an 11-pin connector. If you are looking at the top of the radio with the rear facing you, J911 is on the left and J910 is on the right. (See diagram below)
Pin 2 on J911 is the PTT
Pin 4 on J911 is the TX audio
Pin 4 on J910 is the RX audio
Pin 2 in J910 is the COS (active hi (10v) on valid CTCSS tone)
Pin 8 on J910 is GROUND
Below is a diagram. Notice that you need to add a diode in series with the COS line and its polarity. The shield of the cables connecting the sound card should be connected to ground.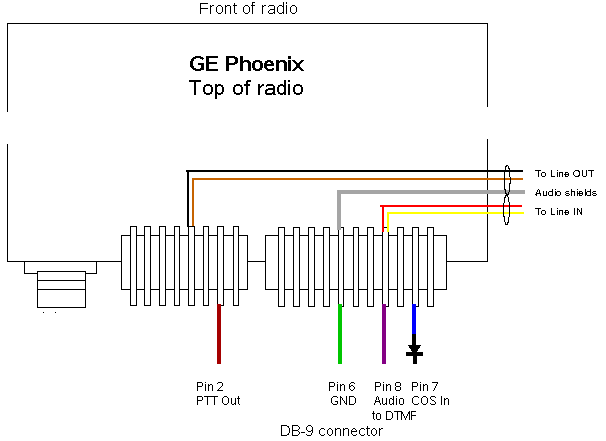 Thank you to Paul Cassel, VE3SY for the original post to the IRLP General email list detailing the hook up information. Please send corrections and modifications to Rob Bellville, N1NTE n1nte @ cox . net
An Improved Interface for GE Phoenix RX audio
The above interface requires very minimal knowledge of electronics however the audio transmitted FROM your node to the network will be thin with few lows. This is due to the fact there is no de-emphasis being performed. This can be over come by taking audio direct from the speaker terminals and keeping the speaker audio very low so not to overdrive it.
A better solution is to use the simple circuit below from Sean N0PBA of IRLP node 3239 which not only provides the needed de-emphasis but also adds some audio gain to make up for the low level from the radio. This circuit would be added in series with the line from Pin 4 of the radio to the Line-IN of audio card. The 12 VDC can be tapped into Pin 1 or 11 both of which usually have 12 VDC from the power plug.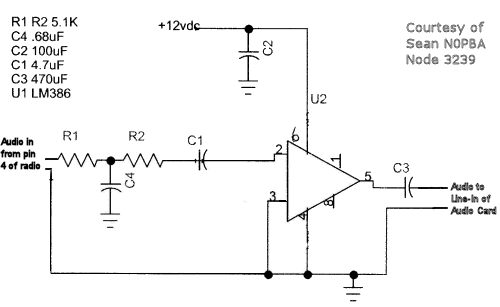 Useful GE Resource
http://www.rtzaudio.com/kg4lne/phoenix.asp
---

GE MVS IRLP Wiring Instructions
by Warren Paulson VE3FYN
email: ve3fyn at shaw dot ca

Marshall - KE6PCV has UHF MVS radios ready to go with cables.

The option connector is found by removing the metal plate from the bottom of the radio. Two Torx screws hold the plate on. With the plate removed, locate the 13 pin option connector, near where the power cord enters the radio. Pin #1 is closest to the back of the radio. Note that the GE-MVS manual refers to pin #10 on the MVS as an audio mute pin. However this pin generates 5 volts DC when a signal is detected, making it useful as a COS pin.
Download the PDF original GE MVS manual here. This will provide operating information, and in-depth background to the mods shown here, including block diagrams and schematics.

DB 9 Connector Wiring

Audio Jack Wiring

DB9 pin

MVS pin

Description

Line in jack

MVS pin

1

.

not used

Ground

Ground*

2

7

PTT out

Middle Ring

not used

3

.

AUX1 out

Tip

3

4

.

AUX2 out

5

.

AUX3 out

Line out jack

MVS pin

6

Ground*

Ground

Ground

Ground*

7

10

COS in

Middle Ring

4

8

3

Audio to DTMF

Tip

not used

9

.

not used
Ground DB9 pin 6, and audio jack ground to one of the screws near the option connector. Ensure that the radio and your computer share a ground.
From the point of view of the MVS Option Connector, the connections are as follows:
Option Connector Wiring

Pin #

Use

1

not used
(Can be used to provide 12v power)

2

not used

3

Audio out to DTMF
Audio out to line-in

4

Audio in to line out

5

not used

6

not used

7

PTT signal

8

not used

9

not used

10

COS signal

11

not used

12

not used

13

not used

Ground

Ground DB9 #6 and audio jacks to the radio chassis.
Audio Levels
On at least some MVS radios (apparently not all), changing the volume will change the output level on pin #3. If this is the case with your radio, set the volume level where you want it for proper audio levels into the computer, and leave it. I have found this on some GE-MVS radios but not all, and have yet to correlate this effect to certain model numbers.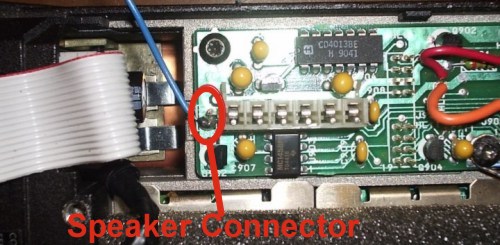 On those MVSs with fixed audio output, you may find that the audio level is too low. To boost your audio output, follow one of the two suggestions described in the "Improved Interface for GE Phoenix RX audio" section on the IRLP website. If you are going to take audio off the speaker (the simplest approach) the following photo locates the speaker connection.

---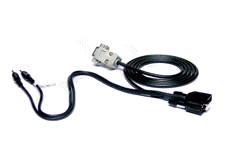 ALINCO
DR-135T - 144 MHz "D" model requires removal of TNC
DR135T/E MkII
DR-235T - 222 MHz
DR-435T - 440 MHz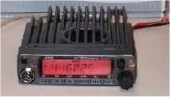 These Alinco models have a DB9 connector designed for packet radio and work quite well for IRLP. Pre-made cables are also available from the following sources
Marshall KE6PCV at http://www.irlpcables.com

---
KC2IVI - IRLP 4889 RADIO IC-207H
The Icom 207H Dual Band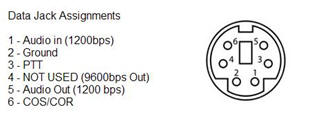 Single Display has been operating as my node radio for over 8 years now. This is an ideal choice for Simplex Nodes as you can operate on VHF or UHF.

As a link radio to a repeater, this radio works well. I find it useful to be able to switch to a Simplex frequency for troubleshooting and testing new scripts.
Above are the Data Terminal pinouts. The IC207H has 2 Data in settings. 9600 bps should NOT be used. The instructions for setting the data speed is included below.
I used an old PS2 mouse, cut the cable and made the necessary connections to the computer and sound card. I do not have an actual diagram for the cable I made, but it should not be hard to make.
NOTE: This setup will also work with other ICOM radios such as the IC-2720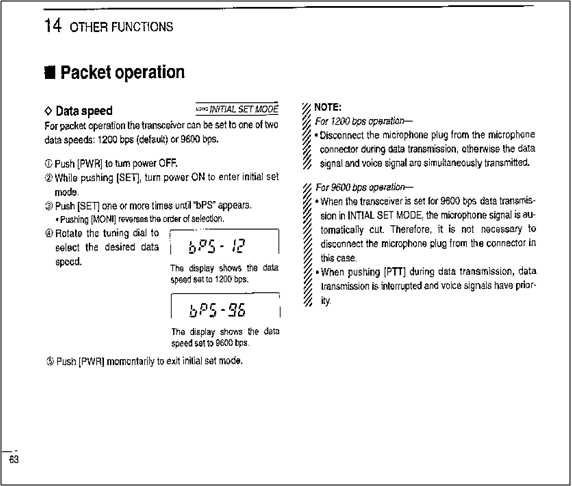 Other Radios
If you have detailed info on radio interfacing please drop the webmaster a line at
Enjoy IRLP and please "Pass the Word"
If left menu bar is not visible, click here

last updated August 06, 2011
(c) 2007 IRLP.NET
Privacy Policy